"Your home for three days!"
Some rooms feature poolside views, others mountain views. Rooms are randomly allocated, please contact us if you would like to guarantee either view – additional cost applies for some rooms – especially ground floor poolside rooms with terraces that lead straight to the pool!
Room for 2 to 4 people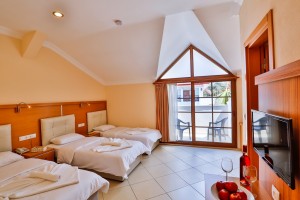 – 1 x double bed
– 2 x Single beds
'Family' rooms are very spacious and have ample space for three people. For a small fee we can help you decide who in your group gets the double bed!
The room is also suitable for four people if two don't mind sharing the double bed. A supplement will apply if only two people stay in this room.
Twin room for 2 people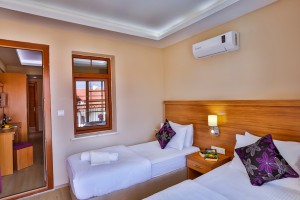 – 2 x Single beds
These are extremely limited at the hotel – please book very early to secure.
Double room for 1 or 2 people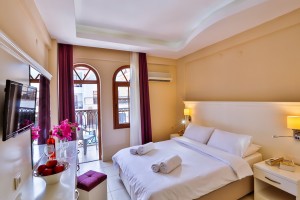 – 1 x Double Bed
Suitable for those that don't mind sharing a double bed. Additional charge applies for single occupancy.

Important: Poolside music may begin as early as 10am on Saturday – Poolside rooms will experience the most noise pollution!
---
Amenities
All rooms feature the following:
✓ Mini-bar (empty)
✓ Satellite LCD TV (Wont need this)
✓ Balcony or terrace
✓ Split Air Conditioner
✓ Hair dryer
✓ Bathroom
✓ Direct dial telephone
✓ WC
✓ Shower (Necessary)
✓Safe box
✓ Wi – Fi (Social Media!)