Royal Ascot Ladies Day 2024 [Luton]
20 June 2024 @ 8:00 am

-

8:00 pm
Gorgeous Getaway - London Coach
This booking is for Luton & Bedford Coach departure. 
Coaches register at Club Lewsey, Pastures Way, Lewsey Park
At checkout you can opt to pay in full, or by deposit + two instalments.
Scroll down for further package and event information and coaches from other hosts / area's.
Gorgeous Getaway host one of the largest exclusive picnic area's inside the main coach park. Positioned near the main 1 mile straight, it's the perfect location for our drinks, food, entertainment and parties before then after non-stop action inside the enclosures!
Click a tab below for further information or scroll down for our full guide to Royal Ascot
What's Included
Our GorgeousGetaway to RoyalAscot includes;
- Coach journey (London, Reading, Birmingham)
- Entry to Windsor Enclosure (Queen Anne upgrades available in March 2024)
- Complementary Drinks on coach and at our site in the Park.
- Pre Party, Entertainment & Afterparty in the Park - RnB, HipHop, Afrobeats, Dancehall, Reggae, House, Garage and Club Classics.
Drinks at our bar will include White/Red Wines, Rose, Prosecco, Juices, Water and a selection of Spirits (Rum, Whiskey, Vodka etc)
Food is available to purchase from a number of vendors onsite. Alternatively why not bring along a picnic basket along with your own choice of meals. Please don't forget to grab breakfast .
London Coaches depart from the same location - V&A Museum, South Kensington. It's the perfect backdrop for photos at the magnificent staircase entrance to the museum, and allows us to get fresh photos of your outfits before the drinking begins...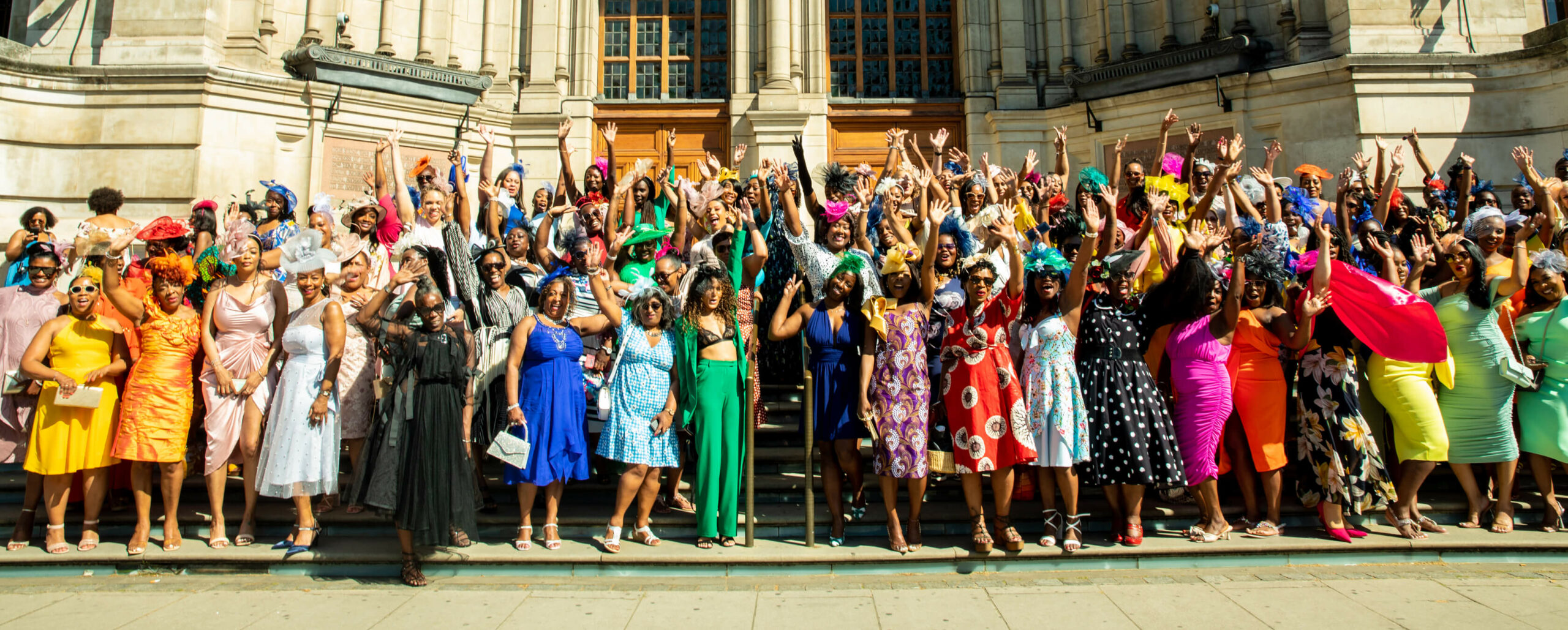 Day Schedule
The itinerary is subject to change. Our final schedule will be sent in May 2024.
0800 Coach Journey
1100 Arrival - setup your *picnic space at our base in the Park or purchase a VIP table in our Marquee, enjoy the pre party, drink bar and a vibrant atmosphere.
1200 Fascinator Walk & Competition!
1315 Head to the enclosure (Windsor or Queen Anne enclosure)
1400 Royal Procession followed by the races.
1700 Back to the park - more drinks and Party till later.
1930 Return Journey
*Please bring along a picnic blanket / chairs. Alternatively, we'll have a limited number of tables available to book inside our Marquee (conveniently located right next to the bar).
Coach & Travel Information
London
Gorgeous Getaway London coaches register at V&A Museum, South Kensington at 8am. Return 7.30pm.
Reading
This coach registers from Select Football Stadium, Reading. (Formerly Madejski)
Birmingham
Coach boarding point near Aston Stadium at 7am. 
Luton
Outside Club Lewsey's at 9am (Breakfast available there)
Meet us there
Details of our exact location in the Park will be sent a week prior to the event. If you're travelling by Car then you may need to consider booking parking with Royal Ascot. The train station is a short walk from our base.
Meet us there
Arrive from 11.00am and we'll pour your first glass soon after.
Details of our location will be sent to you a week before the event. You'll also have access to our whatsapp group with a live location, as well as a What 3 words location marker.
Enclosures & Dress Code
The enclosures are where the main action and racing takes place between our pre and afterparty . From our base, the enclosures are a short walk away. 
Assignment: It's your best friends' wedding. Dress accordingly.  Gents: Sharp & Suited. Ladies: Glamorous, with a Fascinator to match your outfit.
Windsor Enclosure
- A vibrant and exciting atmosphere
- First to view the Royal Procession with views from the home straight.
- Less formal Dress Code
- Live music
- Casual picnic dining areas
£0 - Included in your package
Queen Anne Enclosure
- Heart of the action
- Parade Ring viewing
- Home Straight race viewing
- Singing around the Bandstand
- Access to ground floor of the Grandstand
Upgrade £tba 
Tables & Seating Area
We have a limited number of reserved tables available in one of two tent area's. You can book a full table to seat up to 8, or just a number of seats at a shared table (We will allocate you)
VIP guests benefit from a private bar, and hot buffet - inclusive. Details tbc
Tables cannot be paid for with instalment plans and must be paid in full at time of booking.
Available to book soon.
Package Pricing
Coach packages
Pricing per person includes Coach Journey, Entry to Windsor Enclosure, Drinks, Entertainment and Party in the coach park. (Food is not included)
- London deposit from £41.65 pp
+ 2 x instalments. Total from £119 pp
- Reading deposit from £41.65 pp
+ 2 x instalments. Total from £119 pp
- Birmingham deposit from £45.15 pp
+ 2 x instalments. Total from £129 pp
Meet us there
From £89 (no coach journey included)
Instalments
Instalments
You can pay in full or select an *Instalments plan at checkout (Located above the card details section under 'Your Order')
The lead person is responsible for logging in to make payments before the due date. The entire booking will be at risk if one person doesn't pay on time so please book for others accordingly.
Plan A - 30% deposit followed by two 35% instalments due by 1st February and 1st March 2024
Our automated system will cancel instalment plans after a short grace period. At that point full payment will be due, or the booking itself will be cancelled without refund. There will be administrational fees applied.
Our refund policy only applies if instalments have been paid on time.
Refund Policy
Deposit non refundable
The deposit (or 35% of your booking) is non refundable unless the event is cancelled by us. If you've paid in full, then the instalment dates will be applied to your booking to calculate your deposit amount. (Deposit 30% / Instalment 1 1st Feb 35% / Instalment 2 1st Mar 35%)
Refund on remaining payments
70% of the remaining paid is refundable if you  cancel before 2nd Feb, 45% of remaining refundable if you cancel before 2nd March. 0% refundable after 3rd March.
Deposits cannot be transferred within a booking if one person in your party is unable to attend.
We strongly suggest you take out travel insurance in case you're unable to attend due to sickness or other reason.
What to bring; Essential list
ID – Bank card/Photo ID to register and board coaches.
An amazing outfit ready for entry to the Windsor (or Queen Anne) enclosure.
Portable charger (Keep your phone charged during a day of amazing photos!)
Hand sanitiser / tissue / wet wipes (Wipe those fingers clean after eating food or using the public restrooms!)
Picnic blanket(s) / foldable chair
Fascinator (Be in with a chance of walking the white carpet and winning our Fascinator competition!)
Portable Fan & Sun Cream (In case the weather is hot – we'll keep you updated!)
What to bring; Recommended extra's
Tote bag – to carry all your useful accessories.
Hayfever tablets, nasal spray, syrup or whichever helps!
Cash/Card – in case you want a 'flutter on the horses'
Favourite beverage (If you have a specific drink that isn't on our list!)
Join our read only whatsapp group to be kept up to date on everything! This will be available one week before the event.
Handheld Fan (In case it gets super hot!)
Umbrella (To get shade from the sun or shield you from any unexpected rain)

Registration - Thurs 20th June 2024
Please bring along ID to check-in
(Bank card or any photo ID accepted)
We'll register you electronically by name so please ensure your ID matches the name you've given us.
South Kensington
08:00 Registration
09:00 Depart
Aston
07:00 Registration
08:00 Depart
Select Stadium
09:00 Registration
10:00 Depart
TBC
08:00 Registration
09:00 Depart
Locations & times are approximate and subject to change. Full details to be announced April 2023
– Reps will guide you from the coach to our base for the day.
Note the coaches may not stay at Ascot so you may need to bring your items with you.
There are public restrooms available throughout Ascot and near our base.
Drinks will be provided (Juice, Water, Prosecco etc) but you'll need to have an adequate breakfast before you leave and/or bring along/ grab your choice of breakfast for the coach journey. Fruit, yogurt pots, oat bars, croissants are all great suggestions to line your stomach!
– Grab your glass of bubbly and find a base with your blanket/chairs in our picnic area (or the VIP tent) DJ's & hosts will keep you musically entertained while food is available to purchase from vendors.
1200 Fascinator Competition
Our team will be selecting up to 10 ladies to show off their fascinators on the catwalk!
The attendees will choose the Fascinator of the Day!
1330 Windsor / Queen Anne Enclosure
It's time to take a short walk to the enclosure to mingle with tens of thousands of spectators enjoying the electric atmosphere, placing bets and watching the races!
The Royal Landaus arrive at the Golden Gates and begin their journey along the famous Straight Mile.
Once the Royal Procession passes through the parade ring, the first of seven races begins. The final race is at 6.00pm
Our picnic area opens again – you can stay in the enclosure or come back to us for more drinks and party in the park till 8pm
The journey home after an unforgettable day out.

Food is not included in the package. You'll be able to purchase food from a number of vendors in the coach park and/or enclosures. The list of coach park vendors will be available here by May 2024. Please have enough breakfast and/or bring along something for the coach journey!
We'll have a generous amount of drink that will last beyond the day so please pace yourself and drink responsibly. 
Our bar staff/reps can and will refuse to serve any attendee who has become visibly intoxicated beyond reasonable limits.
Deetails and any applicable timings will be posted late April 2024, but will include Prosecco, Wine, Rose, Juices, Water and a selection of spirits.
Horse racing – This is exactly what you came for … right!?
Your package includes access to the Windsor Enclosure (Or Queen Anne Enclosure if you choose to upgrade).
All attendees will leave our picnic area to go into the enclosure. Our base and bar will be closed during this time in order to clear rubbish from the site and restock for the evening.
It's not compulsory, but should you wish to have a 'flutter on the horses' you can checkout this guide for information in advance!
The Royal procession normally takes place at 2.00pm followed by seven races throughout the afternoon. 
2023 fixtures are shown below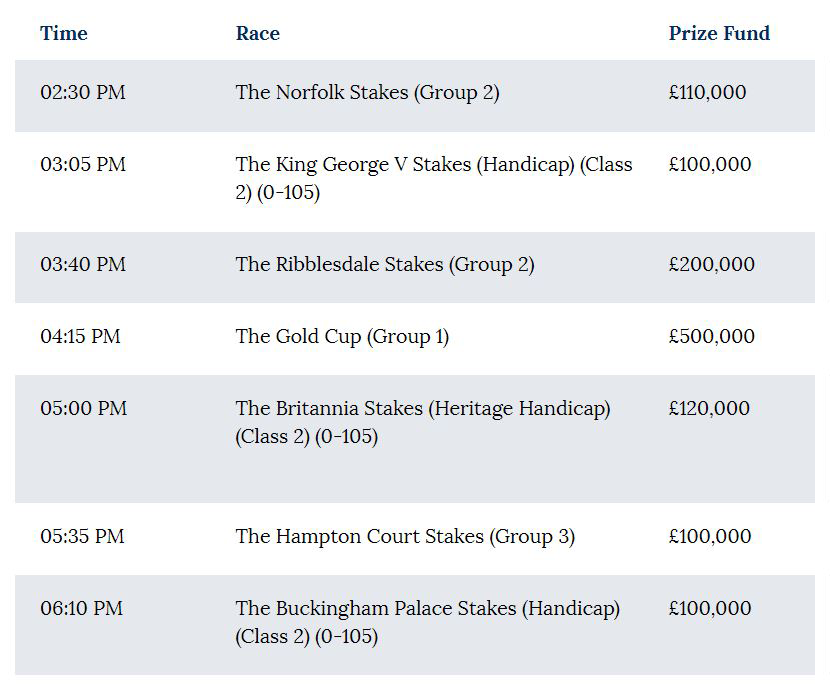 You can select an instalment plan (Low deposit and monthly payments) for most of our events at checkout!
Royal Ascot Ladies Day 2024 [Luton]