This guide will maximize your enjoyment on this incredible day out! Please take a few minutes to absorb the information (and join the Read only whatsapp group!)
Location info will be available by Tuesday 20th June.
No E-tickets are necessary and email confirmations won't be used on the day.
Simply show ID at departure and your name will be checked on our electronic/printed list.

Please ensure you have given us FULL names of each person in your booking.
Quick Guide: The Schedule
Click a tab for further information.
Registration & Coaches
General Information
Wristbands and enclosure tickets will be handed out

during

the journey.
Registration Times
Aim to arrive 30 minutes before registration. Coaches depart 30 minutes after.
London | SW7 2RL | 9.00am
- V & A Museum - South Kensington
- Coaches A - F and G, H, I
- Buchi (G) Got Soul x That Thing (H) & Milktray (I) coaches depart here.
- Expected journey time: 1.5 - 2 hours
Reading | RG2 0FL | 9.30am
- Stadium Shop, Select Car Leasing Stadium
- Coach J
- Expected journey time: 45 - 60 minutes.
Luton | LU4 0PF | 9.00am
- The Club Lewsey, Pastures Way, Luton
- Coach K
- Expected journey time: 1.5 - 2 hours
Birmingham | B6 6HD | 8.00am
- Doug Ellis Stand, Witton Road
Aston Stadium 
- Coach L
- Noir coaches (N O P Q R) depart here
- Expected journey time: 3 - 3.5 hours
- There is one scheduled service station stop along the way. Time may be affected by this.
For Huddersfield (S), Essex (T)  and Leeds (V) coaches, please check with your local rep - they are all due to have a scheduled stop.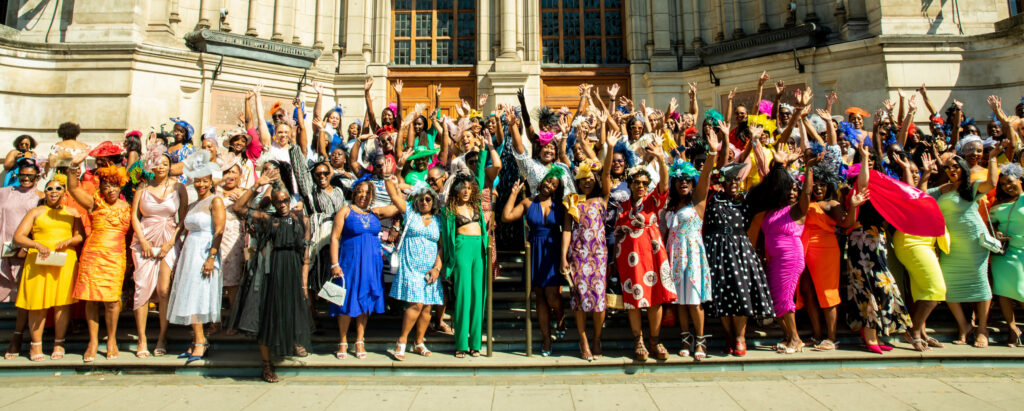 10:30 | Meet us there
Haven't booked the coach? Meet us there from 10.30am and head to our Box Office Gazebo for your wristband and Entry ticket.
Missed the coach?
If you've missed the coach, you'll need to make your way to us and check in at the box office. See address below...
Address
Royal Ascot Racecourse, SL5 7JX. 
For travel and parking information please visit: Travelling to Royal Ascot
Location
Our exact location will be sent direct to attendees by Tuesday 20th June, and will be posted in the live whatsapp groups.
10:30 | Picnic [Coach Park]
Our base is located in the Coach Park, next door to the straight mile stretch and enclosures.
Assume you won't be able to leave anything on the coaches. Bring all with you.
Settle into the picnic area with your blanket and/or picnic chairs (bring your own along). You can take these into the enclosure, leave them at the picnic site, or store them in our cloakroom (£tbc per item).
The two Marquees are for the exclusive use of those that have booked tables. For table bookings, go to Marquee A or B for check-in and find your designated table.
Bar staff will circulate the picnic area to constantly refill your flutes, alternatively visit the relevant bar tents for additional beverages.
You'll be able to grab a meal from any of the vendors - see details below.
13:00 | Fascinator Competition
13:45 | Races [Enclosures]
This is what you came for .. the races and a quick flutter with the bookies! We're conveniently located next door to the Straight mile where the Royal Procession takes place. The Windsor and Queen Anne enclosures are a short walk from our picnic base.
Enclosure schedule;
10.30am Gates open
2.00pm Royal Procession
2.30pm First Race
4.20pm Gold Race (Feature race)
6.10pm Last Race
6.15pm Singing around the bandstand
Our base will close from 2.00pm to 5.00pm. No drink or food will be available from us during this time, but you'll be able to purchase food from vendors inside the enclosure.
You can stay in the enclosure as long as you wish, but there is no re-entry once you leave.
You can take picnic chairs/blankets inside with you, alternatively leave them at the picnic site (at your own risk) or store securely in our cloakroom (£tbc per item)
If you upgraded to Queen Anne, you won't be able to visit Windsor enclosure (and vice versa)
If you choose to, please gamble responsibly .. and win millions!
17:00 | Afterparty [Coach Park]
Our base re-opens! although races continue to 6.30pm, feel free to head back from the enclosure anytime from 5pm.
Enjoy more complimentary drinks from our bar and /or purchase food from vendors.
DJ's will provide the music to party till 8.00pm
Coaches depart by 8.30pm
Quick Guide: Other information
Pre-event Checklist
Select your summer outfit based on the dress code for your enclosure.
Join one of our read only whatsapp groups to be kept informed with live schedule information. 
Feel free to bring along your own drinks and picnic food or enjoy our open (Free) bar and vendors selling food
Haven't booked a table? Bring along a fold up chair and/or blanket / foldup table for the picnic area.
Whatsapp Group
We've created a Read Only Whatsapp group to share information in the lead up to and on the day!
The link has been sent directly by email to all attendees
Participants won't be able to post messages, but will be able to respond to polls (including voting for best Fascinator on the day!)
Site Plan
2 x VIP Marquees
2 x Bar tents
5 x Vendors
1 x Picnic area
1 x DJ Tent
1 x Box Office & Cloakroom
Multiple photo opportunities
We're finalising the site plans - This will be available here in June. For now, please check out our site concept below!
Dress Code
Assignment: It's your best friends' wedding, the one you've known for more than 15 years ... dress accordingly. 
Gents: Sharp & Suited.
Ladies: Glamorous, with a fascinator to match your outfit.
Windsor Enclosure
- A vibrant and exciting atmosphere
- First to view the Royal Procession with views from the home straight.
- Less formal Dress Code
- Live music
- Casual picnic dining areas
Queen Anne Enclosure
- Heart of the action
- Parade Ring viewing
- Home Straight race viewing
- Singing around the Bandstand
- Access to ground floor of the Grandstand
Weather information
Let's acknowledge the unpredictable British weather. ☁️🌦️🌥️🌤️
We maintain a strong sense of optimism that the conditions will improve by Thursday. While we cannot control the weather itself, we have more control over the amazing time we'll have together, regardless of what nature brings!
Please take note that there won't be any cover at the picnic site unless you've made reservations in the Marquee. Coaches will be locked for the day. Furthermore, the Windsor enclosure lacks cover.
To be on the safe side, order a see-through poncho and prepare to bring an umbrella. Above all, come with a smile and positive energy!
Drinks - inclusive!
Drinks are included in your package! Ample beverages will be available during the coach journey and at our picnic base in the coach park. We've hired a huge team of experienced bartenders and service staff, many of whom will be roaming the picnic area keeping your flutes topped up. 
Day service: 10.30 - 14.00
Evening service 17.00 - 20.00
Drink is unlimited but service is not! - Please keep yourself hydrated with plenty of water and pace yourself. Bar staff will decline service to individuals who are visibly intoxicated beyond reasonable limits.
Prosecco
Wine (White, Rose, Red)
Rum - Wray & Nephew / Bacardi
Brandy - Courvoisier
Amaretto - Disaronno
Apple, Orange Juices
Water (Bottled)
This list is indicative and subject to change based on availability of brands at the time.
Attendees are expected to be in the Windsor or Queen Anne enclosure from 2pm to 5pm - We aren't permitted to play music, serve food or drink during this time. 

Drink Aware
We want you to enjoy the day, drink plenty of water between drinks, and ensure you're aware of drink units and how drink affects you personally.
Glass of Prosecco = 1.5 - 2 units
Glass of Wine = 2 - 3 units
Single spirit & Mixer = 1 unit
Double Spirit & Mixer = 2 units
Notes...
It takes around 30 minutes for you to start feeling the effects of alcohol.
The current UK Drink/drive limit is 3 units for women and 4 units for men.
Consuming more than six units of alcohol for women and eight units for men in a single session is considered a bit of a binge that might not end well.
Visit https://www.drinkaware.co.uk/
Food & Vendors
Food is not included in the package. We'll have a number of vendors with us in the Coach Park, as well as the vendors available inside the Ascot enclosures.
Note, if you have any special dietary requirements, please bring something along to carry you through before you purchase food. Vendors are likely to experience busy periods with queues and limited availability of specific items.
Gorgeous Getaway Vendor Service:
am 10.30am - 2.30pm
pm 5.30pm - 8.00pm
Gorgeous Getaway Vendor list:
tba | Caribbean
tba | Caribbean
tba | Patties
tba | Caribbean
tba | Suya / African
Each vendor will have vegetarian and vegan options. There may be pre order services available for some vendors - check back soon.
In addition to the above, a burger & chips vendor may be located in the coach park near us, along with other cuisines available to purchase inside the Windsor and Queen Anne enclosures throughout the day.
General Guide
Breakfast: There'll be a generous amount of drink available throughout the day, please don't start on an empty stomach! Grab something on route if you're unable to have an adequate breakfast before you leave.
Lunch: Feel free to bring along a picnic basket filled with your favourite dish or snacks. We'll have a number of vendors on our picnic site where you can purchase food but queues may be busy at times. You can also grab food inside the enclosures.
Dinner: Vendors will be serving from 5.30pm, alternatively grab food inside the enclosure before you head back to the coach park.
Click a logo or heading to view the vendor website (in a-z order)
Menu's and further details will be posted in the Whatsapp Group on the day.


Please be aware that the services offered by these Vendors are independent of GorgeousGetaway. We are unable to make any guarantees with regards to quality of service or food. If you encounter any issues, please address the respective vendor directly.

Please bring cash along just in case card machines have issues.
Quick Guide: Video Highlights
Video - 'We Like to Party' [0:53]
That's the quick(ish) guide to the day, if you need further information please read the full breakdown below our sponsors
Full details can be found below.
What to bring; Essential list
ID – Screenshot of your Photo ID to register and board coaches or collect tickets
An amazing outfit ready for entry to the Windsor (or Queen Anne) enclosure.
Portable charger (Keep your phone charged during a day of amazing photos!)
Hand sanitiser / tissue / wet wipes (Wipe those fingers clean after eating food or using the public restrooms!)
Picnic blanket(s) / foldable chair
Fascinator (Be in with a chance of walking the white carpet and winning our Fascinator competition!)
Portable Fan & Sun Cream (In case the weather is hot – we'll keep you updated!)
What to bring; Recommended extra's
Tote bag – to carry all your useful accessories.
Hayfever tablets, nasal spray, syrup or whichever helps!
Cash/Card – in case you want a 'flutter on the horses'
Favourite beverage (If you have a specific drink that isn't on our list!)
Join our read only whatsapp group to be kept up to date on everything! This will be available one week before the event.
Handheld Fan (In case it gets super hot!)
Umbrella (To get shade from the sun or shield you from any unexpected rain)
Poncho – see through in case of showers.

Registration - Thurs 22nd June 2023
Please bring along ID to check-in
(Bank card or any photo ID accepted)
We'll register you electronically by name so please ensure your ID matches the name you've given us.
See Quick Guide for departure times and locations
– Reps will guide you from the coach to our base for the day.
Note the coaches may not stay at Ascot so you may need to bring your items with you.
There are public restrooms available throughout Ascot and near our base.
Drinks will be provided (Juice, Water, Prosecco etc) but you'll need to have an adequate breakfast before you leave and/or bring along/ grab your choice of breakfast for the coach journey. Fruit, yogurt pots, oat bars, croissants are all great suggestions to line your stomach!
– Grab your glass of bubbly and find a base for your picnic blanket/chairs. DJ's will keep you musically entertained. Food available to purchase from Vendors
1200 Fascinator Competition
Our team will be selecting up to 10 ladies to show off their fascinators on the catwalk!
The attendees will choose the Fascinator of the Day!
1300 Windsor / Queen Anne Enclosure
Take a short walk to the enclosure to mingle with thousands of spectators enjoying the electric atmosphere, placing bets and watching the races!
Head back to the coach park where you can purchase more food, have more drinks and party till 8pm
The journey home after a great day out!

Food is not included in the package. You'll be able to purchase food from a number of vendors in the coach park and the enclosures but we suggest bringing a picnic along if you can. Please have enough breakfast and/or bring some snacks/ yogurt etc for the coach journey! Drinks are provided throughout the day.
We'll have ample drink that will last beyond the day so please pace yourself and drink responsibly. 
Our bar staff/reps can and will refuse to serve any attendee who has become visibly intoxicated beyond reasonable limits.
Drink dwill include Prosecco, Wine, Rose Juices, Water and a selection of  spirits.
Horse racing – This is exactly what you came for … right!?
Your package includes access to the Windsor Enclosure (Or Queen Anne Enclosure if you choose to upgrade).
All attendees will leave the base to go into the enclosure. Our base and bar will be closed during this time in order to clear up and restock for the evening.
It's not compulsory, but should you wish to have a 'flutter on the horses' you can checkout this guide for information in advance!
The Royal procession normally takes place at 2.00pm followed by seven races throughout the afternoon.
2023 fixtures