About Us
CLUB VIP PLUS organise a calendar of Day trips and Overnight breaks for its 25+ membership database. Our humble beginnings date back to early 2009 – an overnight trip to Alton Towers for just 70 friends and family. TheGetaway NYE Experience, our flagship event, normally sells out by September! 6 coaches transfer 300 members to the exclusively booked Penta Hotel Reading, with a further 300 attending by car/train.
GORGEOUS is one of London's most successful monthly events company. Founded in 2004 with the aim to provide our clientele an environment where they mingle and socialise in a relaxed, friendly atmosphere. The GORGEOUS Party, our flagship event, frequently has in excess of 800 people attending Revolution Bar (Leadenhall) each month.
Testimonials

The Getaway NYE 2013/14
"First time we've been this year and it was amazing 🙂 Well done to all you guys for organizing such a lovely well planned out and fun filled event. The hotel was AMAZING and everyone was really friendly right from the start. Well done again and we'll see u later on this year!"

Rock the Boat 2013
"Thanks for the best 30th birthday ever at the boat party!!!! Singing: rice and peas macaroni cheese!!! Wooooiiii. The sky juice had me buzzing lol!" See you at the next event!
Contact us
Charles 07830 285 625
Obi 07958 552 838
Past Events
Click here to view photos of GorgeousGetaway 2014 Barcelona
Our Promise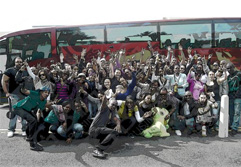 To understand… …Our members. We understand that you have responsibilities, work, bills and the general stresses of life. That's why a short weekend away with like minded people is a perfect self-treat!
To consider… …Every minute of your stay with us. There'll always be something to do at the Gorgeous Getaway. It's your choice how much you wish to take part in.
To listen… …Your feedback is extremely valuable to us. Please feel free to email at any time, or call your rep 10am – 7pm with any questions or concerns.